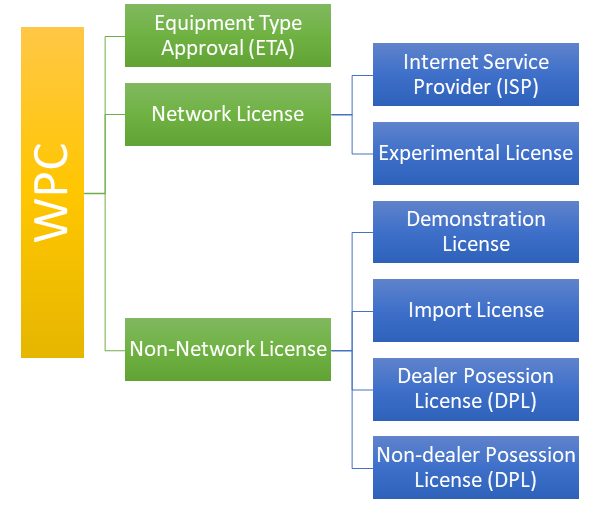 WPC Approval
Trio offers WPC approvals at the shortest possible timelines. ETA and Import Licenses can be processed through Trio. We will need either FCC or ETSI RF Test Reports along with our completed information sheet. Write to us today for Indian Wireless Planning Commission (WPC) approvals.
Equipment Type Approval (ETA)
Wireless Planning Commission (WPC Approvals)
WPC-Wing of Department of Telecommunication, mandates Equipment Type approval for wireless devices operating under De-Licensed Bands of frequencies. The approval is applicable for both importer and locals, to be marketed in India. Presently it is a 'Self Declaration Scheme' for ETA. The customer who wishes to obtain ETA for devices with radio, needs to provide the following:
An RF Test report per either FCC or ETSI for Product with Radio which shows the RF test results
The testing must have been conducted in a ISO/IEC 17025 accredited Laboratory
The measured values MUST be within the limits specified by WPC for the frequency bands. If not, the out of limit values must be restricted through hardware/software/embedded programming and then tested again to show compliance to be within the limits.
Technical Brochure (If the technical information is not covered in user manual)
The process of obtaining the WPC certification will be anywhere between 1- 2 days
Internet Service Provider:
The Internet Service Provider license abbreviated as ISP License, authorized to provide internet services. It is divided in the 3 categories depending upon the regions in which the internet service can be provided:
ISP Category A - Valid PAN India
ISP Category B - Telecom Circle
ISP Category C - Secondary Switching Area. WPC allocates frequency spectrum for this service license.
Experimental License:
Experimental License(Radiation) - Applicable for India entities involved in R & D, incubation, experimentation, TSP's & covers Public Access Testbeds
Experimental License (Non-radiating)-Applicable for India entities involved in R & D, incubation, manufacturing, testing, TSP's and Academia
Technology Trials (Radiating): The Special case of 5G applicable to Indian entities Viz. TSPs/Companies/Organizations/Academia involved in Services, R& D, Experimentation, Manufacturing of Digital Communication Technologies (DCTs)
Demonstration License:
This is Non-Network type of license issued to a person or company which intends to demonstrate any wireless equipment. This approval includes.
Demo indoor for finished products including license for spectrum Non-radiating/very low power radiating-purpose of this is product demonstration in exhibitions, indoors, customer premises. Purpose of this license is product demonstration, in exhibitions, indoors or customer premises.
Indian Entities can apply
Import License:
Wireless Planning and Coordination Wing (WPC) issues this Import License for the import of any equipment or device other than Broadcasting Receiver and TVRO system. Other than that, for all the devices and equipment an import license is required from WPC.
Non-DPL:
NDPL License or Non-Dealer Possession License is issued to entities that are neither the dealers nor the proprietors of wireless products. They are merely entities that have wireless products in their possession for which the application is submitted to WPC.
DPL:
Dealer Possession License is issued for prospective dealers and distributors of wireless products. The DPL enables a person/company to possess and transact in the wireless products which are licensed through the DPL.
Distributor/dealers of any wireless equipment who are individuals or company registered under Companies Act can apply.
ETA Self-Declaration:
ETA through self -declaration is permitted for commercial/finished products such as mobile/computing devices viz. as mobile handsets, smart phones, electronic notepads, laptops, smart watches, short Range Devices including accessories, microphones, speakers, headphones, printers, scanners, cameras etc., operating in licensed exemption bands as permitted in India. A self-declaration from importer/authorized India representative may be treated as sufficient evidence to process clearances by Customs & Central Excise Authorities.
Requirements for import license are regulated by EXIM Policy of DGFT.
Manufacturing and Testing:
This application is for the grant of a license for Manufacturing & Testing of DCT products to encourage continuous economic activity. This license is applicable to entities involved in Manufacturing, Prototype Development or Testing. The license includes the necessary permissions for importing wireless products / assemblies/ modules and associated accessories including antennae operating in both licenses and license-exempt bands.
Important links
(Links may have been moved by respective website owners. Trio doesn't own responsibility for the same)